Avoid Car Dealer Options and Add Ons with these 3 Questions!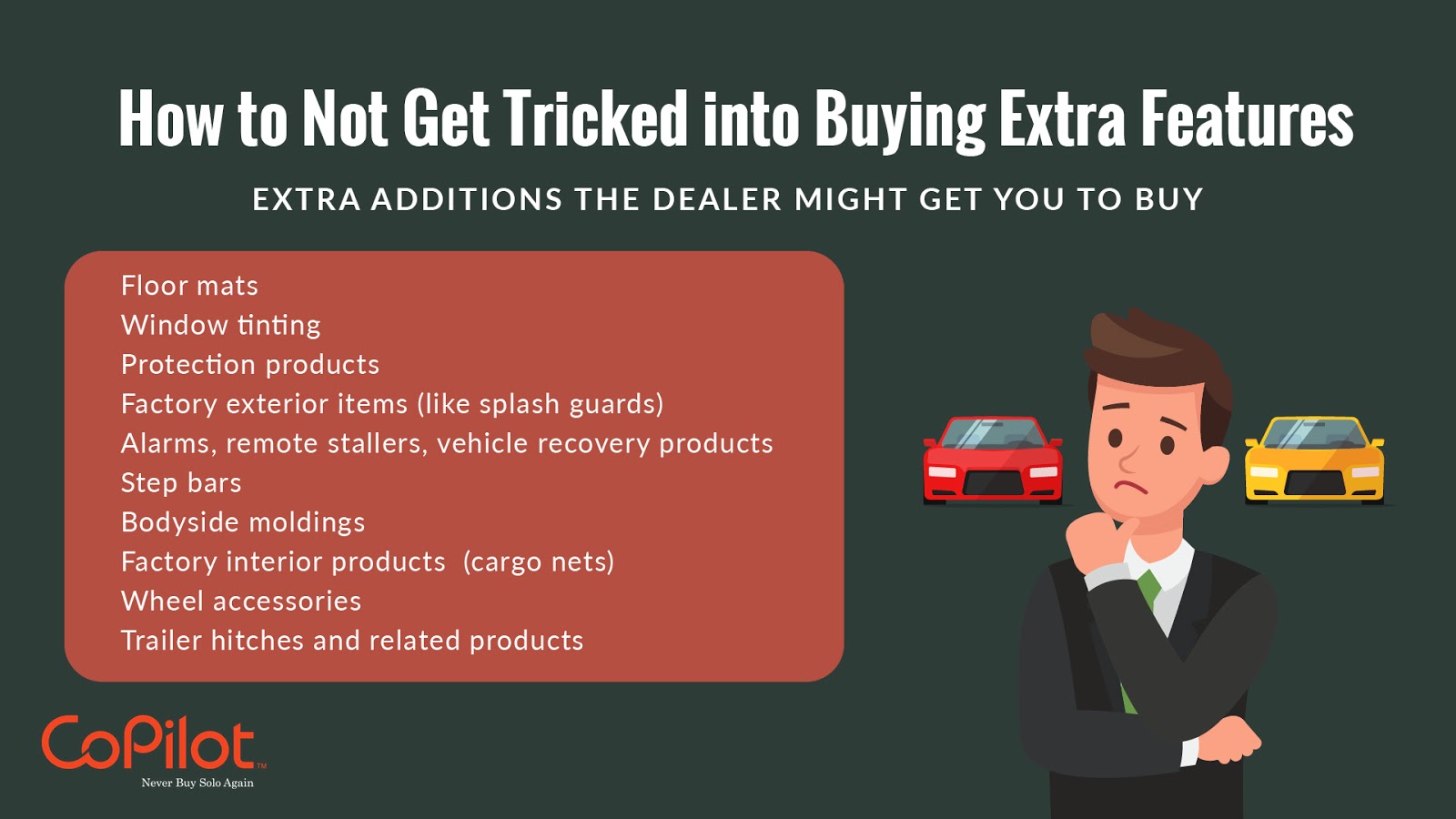 There's nothing a car salesperson loves more than ignorant, clueless car buyers.
Buyers who haven't done their research are more likely to pay more than a car is worth.
But it's not always a higher sticker price that gets you.
A lot of the additional costs will go into overpriced dealer add-ons that profit dealerships significantly.
To avoid being the clueless car buyer opting for a dozen pricy add-ons, make sure you always ask these three questions before you set foot in any dealership.
1. How Much Car Will You Need?
Once you've decided on a car's make and model, it's important you know what you need, what you may be open to, and what features you'll always say no to at the car dealership.
If you're unsure, here are a few things you should avoid:
Onboard Navigation: While GPS is a major lifesaver, there's a good chance you already use GPS on your phone via Google Maps. We recommend avoiding onboard navigation as it can be expensive and requires you to purchase map updates to remain relevant. Most maps also don't display real-traffic time, which is inferior to the free version on Google Maps (or apps like Waze).
Sunroofs and Convertibles: It may feel like a great idea, but they often come with many mechanical problems that can be expensive to fix.
Adaptive Headlights: These headlights will swivel to the movement of your steering wheel. While it may sound like a good idea, it may actually be counterproductive, especially when you want to see what's in front of you.
Touchscreens: Most touchscreens on cars have very clunky interfaces and are not very responsive to touch commands. You might see your family or friends with touch screen cars constantly tapping at the screen. It's better to get the traditional knob and buttons than a slow touch screen that constantly freezes (at least for the next few years).
Roof Rack: You might need a roof rack, but buying it from the dealer isn't worth it. While the dealer may convince you that the roof rack will fit seamlessly on this car, you can always find an aftermarket roof rack that will fit. The aftermarket roof rack would also be significantly cheaper.
Would you also consider swapping from a luxury to a less-branded luxury car?
Many less-branded cars have the same levels of ride comfort, interior features, and technology options as the luxury-branded vehicles. But going for a less-branded luxury car can save you $4000 to $15,000. For example, the Honda Accord or Mazda 6 can match a mid-level luxury sedan like a Cadillac CTS or the Jaguar FX when it comes to features, technology, and comfort.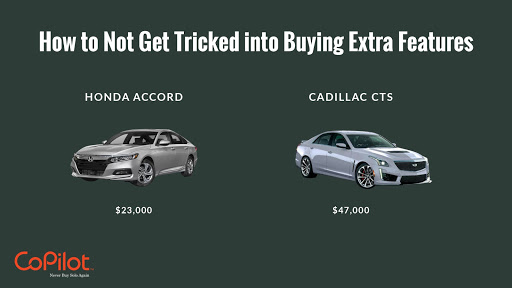 If you can't be swayed to move downmarket, take a look at a slightly used version of the existing car. A slightly older model can save you a significant amount. For example, the average price for a popular BMW 3 Series sits at $45,000. But if you buy a three-year-old 3 Series, the price would drop to $25,000. That's a savings of $20,000 (without major changes between the models).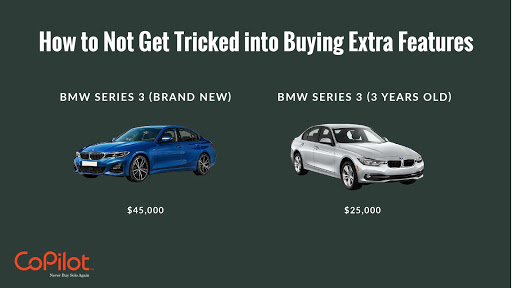 As always, make sure you do your homework first. If you buy your car from a dealership, they'll take advantage of your ignorance and lack of information. So go in informed and only say yes to the additional features you need.
2. Do You Need To Get The Top Of The Line?
While newer models have extra additions, you may not always need the top of the line. Price increases are generally due to the increase in standard equipment. But you'll be surprised how great base models are today.
For example, if we look at the 2019 Hyundai Kona crossover SUV, its SEL trim level is the Kona's second-most affordable trim. The car comes with many features like Apple CarPlay, a touchscreen infotainment system, Android Auto, heated front seats, push-button ignition, keyless door access, and many more advanced safety aids.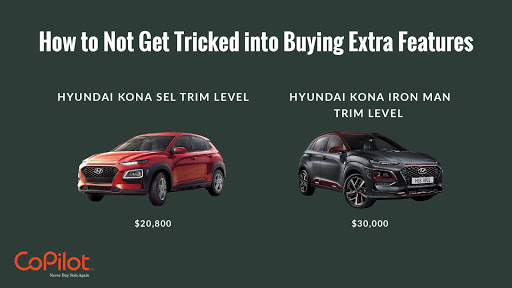 Despite all these in-built features, the retail price is only $20,800, (including the destination fee). If we compare the 2019 Hyundai Kona crossover SUV with Kona's top Iron man Trim level with all-wheel drive, you can save almost $10,000 by going with the base model.
You may find some premium features only available at the top of vehicle lines, but if you're on a budget, consider whether you can be satisfied with buying lower models. It's a great way to save thousands of dollars.
3. Can I Buy These Additions After the Sale?
Once you understand what features you actually need, and whether going for a lower or base model works for you, you can then evaluate which extra additions are available outside the dealer.
So before you make any decisions, always look at the cost. The extra accessories (from premium sound systems to roof racks) are generally sold at electronics or auto parts stores for less than half of the price the dealer will offer them.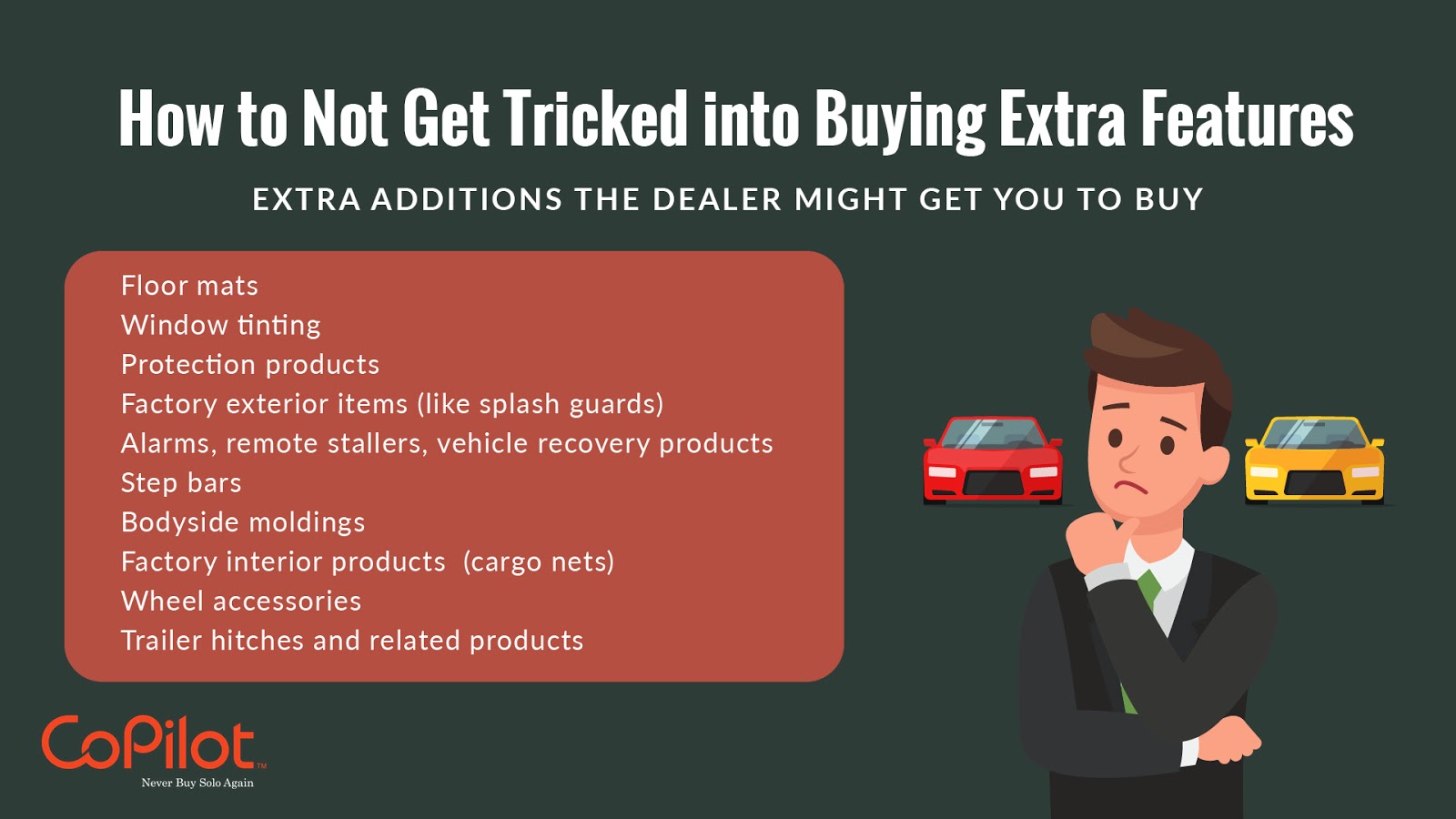 Car salespeople will always try to slip in these surprise add-ons as you're wrapping things up. Always make sure you're aware of what you're signing, so you won't get ripped off.
Final Thoughts
Car dealers have many ways to make the most of selling every vehicle.
From pushing extra features to suggesting the latest models, and even dealer add-ons, these extras can significantly drive up the cost of purchasing a new car.
If you're not careful, you may accidentally opt-in for a few extras and end up financing much more than you originally agreed to. So make sure you do your research before entering the dealership and always ask yourself these three questions before you begin the purchasing and negotiating process.