What are The Best and Worst CPO Programs?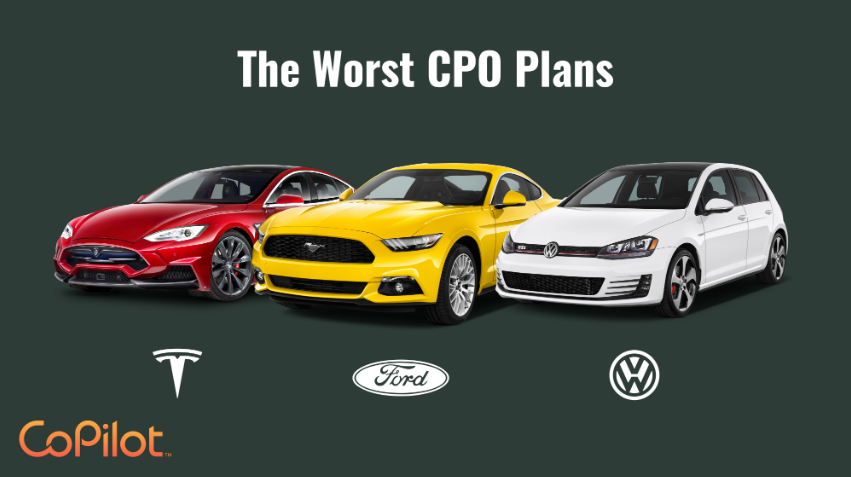 A Certified Pre-Owned Vehicle, also known as a CPO, is a used car with low mileage, no history of major accidents, and is backed by the manufacturer.
Each manufacturer has different criteria for what constitutes a CPO. For some, those three letters are a stamp of greatness. Others have a very loose interpretation. That's why we've compiled what we believe to be some of the best and worst CPO programs throughout the auto industry.
So, which manufacturer should you frequent when looking for a CPO?
Read on to find out!
3 Best Non-Luxury CPO Programs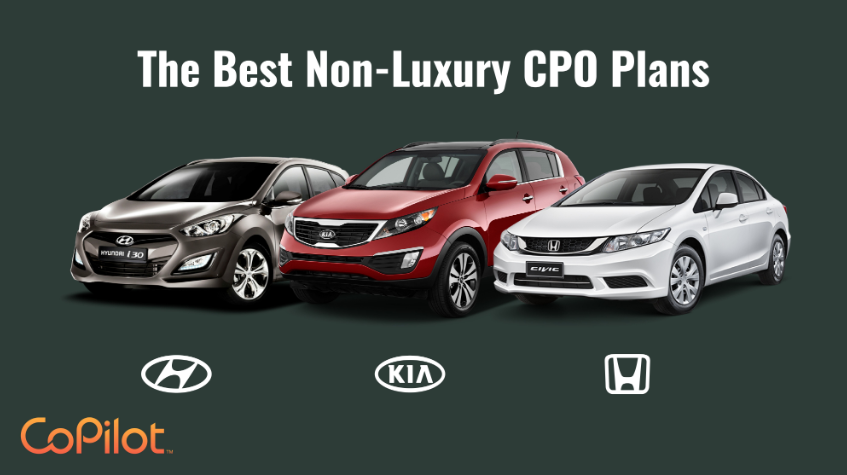 1. Hyundai:
Hyundai is the first on our list of great non-luxury CPO programs. To be considered a CPO under Hyundai, the car has to be less than five vehicle generations old.
The Hyundai CPO program comes with the remainder of a new vehicle's five-year/60,000 mile comprehensive warranty. There's also a powertrain warranty that covers 10 years and 100,000 miles.
Hyundai puts its CPOs through a 173-point inspection. That includes a deep dive into the mechanics, safety, and appearance of the vehicle.
Hyundai also offers a wealth of extras for their CPOs.
---
CPO extras include:
Rental car reimbursement of up to $35 per day for 10 days on covered repairs. This includes a first day rental.
Travel interruption reimbursement if the vehicle breaks down more than 150 miles from your home. This covers up to $100 per day and $500 per occurrence.
Roadside assistance at no charge for a period of 10 years with no mileage cap. This includes towing, battery jumps, flat tire changes, lock out service, and fuel delivery.
Hyundai installs SiriusXM Satellite Radio in all CPOs, and includes a 90 day free trial of the service.
When compared with other non-luxury CPO Programs, Hyundai stands out because of its generous extension of the original manufacturer's warranty. That's not something you see from a lot of non-luxury manufacturers.
2. Kia:
To be considered a CPO, a Kia must be less than five years old and have less than 60,000 miles.
Kia's CPO warranty extends the original powertrain manufacturer coverage to a period of 10 years or up to a whopping 100,000 miles. That's huge when you consider that a used Kia will typically come with a powertrain warranty of five years and up to 60,000 miles. The CPO certification doubles your time and nearly doubles the mileage.
Kia's vehicles have to go through a 164-point inspection before they can be considered a CPO. This encompasses a road test, emissions, the engine, transmission, steering, cooling, exhaust, fuel, brakes, electrical, heat, AC, and appearance. If the vehicle is a hybrid, there are specific hybrid components that will be checked as well.
Kia offers a number of extras. They include:
24-hour roadside assistance.
Rental coverage of up to $35 per day for a period of 10 days in the event of a mechanical breakdown or manufacturer warranty repair.
Travel breakdown and towing coverage when you're more than 100 miles from your home. They reimburse up to $100 per day with a maximum of $500 per occurrence for food and lodging as well as $75 worth of towing charges in the event of a mechanical breakdown.
Kia's powertrain coverage outperforms a lot of the other non-luxury CPO programs we've seen. They will pay for repairs to the major components of your vehicle's engine for up to a decade.
3. Honda:
Honda actually has two CPO programs. HondaTrue Certified vehicles have to be younger than five years old, while HondaTrue Certified+ vehicles can only be up to two years old.
Both of these programs come with a powertrain warranty of seven years and up to 100,000 miles. HondaTrue Certified vehicles have a non-powertrain warranty that extends the original new vehicle warranty to four years and up to 48,000 miles. Vehicles purchased after a new vehicle warranty has expired will get an extension of one year and up to 12,000 miles from the delivery date.
HondaTrue Certified+ vehicles extend the new vehicle limited warranty to a period of five years or up to 86,000 miles.
All Honda CPOs go through a 182-point mechanical and appearance inspection and feature no deductible.
There are a bunch of great extras available through Honda's program.
They are:
Roadside Assistance for the entire length of the warranty.
Two free oil changes within the first year of ownership.
A 90-day trial of SiriusXM Satellite Radio.
Honda stands out over other non-luxury CPO Programs because of its extra features and the addition of HondaTrue Certified+. The addition of roadside assistance for the entire length of the warranty is great, and a manufacturer charging no deductible is rare and should be celebrated.
3 Best Luxury CPO Programs
1. Porsche
A Porsche-approved CPO can include the current model year and 13 previous model years from their original service date with less than 124,000 miles.
They come with a two-year unlimited miles warranty once the new vehicle limited warranty expires.
Porsche CPOs undergo a 111-point inspection that has been performed by Porsche trained technicians using only genuine Porsche parts.
Porsche charges no deductible and CPOs can be transferred to future owners with the program intact.
Porsche also offers:
Roadside assistance.
Out of town repair and service
A three month satellite radio subscription.
When compared to other luxury CPO Programs, Porsche stands out because you're able to get a reasonably old car with a two-year Porsche warranty.
2. Lexus
The warranty for a Lexus CPO provides up to six years of coverage when combined with a basic new vehicle warranty. The mileage on this warranty is unlimited.
All Lexus CPOs go through a 161-point inspection, which includes the engine, interior, exterior, electronics, safety devices, the undercarriage, and a road test. These tests can only be performed by a specially trained technician.
Lexus features a number of extras, including:
Complimentary loaner car if your vehicle has to be at the dealership for more than eight hours.
Roadside assistance.
Trip Interruption of up to $200 per night for lodging and up to $50 per day for five days for a rental car.
When compared to other luxury CPO Programs, Lexus shines, thanks to its 161-point checklist inspection and specially-trained technicians.
3. Volvo
All Volvo CPOs have to be less than five years old and feature less than 80,000 miles.
They come with a five-year unlimited mile exclusionary coverage warranty that starts from the original in service date of the car. The warranty is transferable to a new owner and can be extended for up to a total of 10 years with unlimited miles.
Volvos must go through a 170-point inspection and have a detailed Carfax history report.
Volvo offers CPO extras such as:
Roadside assistance
Towing within a 25 mile radius
Trip interruption if you're more than 150 miles from home for up to $500.
Volvo offers greater warranty coverage as compared to other luxury CPOs with an extendable time period.
3 Worst CPO Programs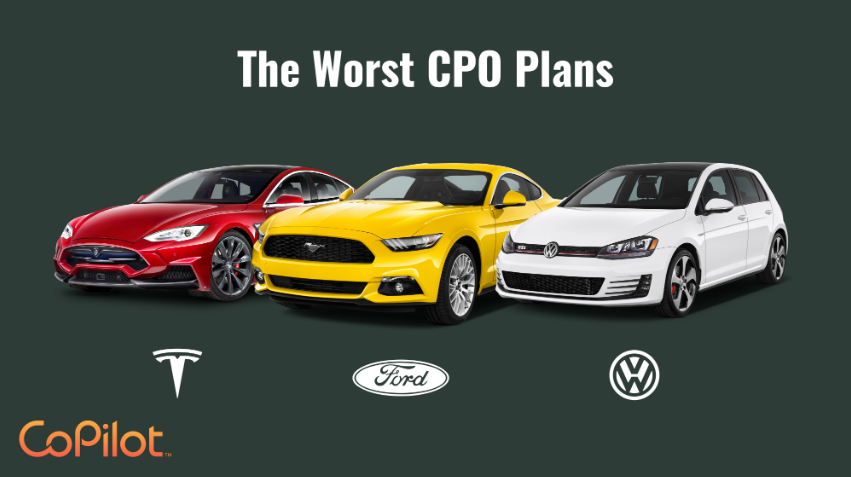 1. Tesla
Despite its reputation, Tesla does not have a great CPO program.
For starters, it features a four year, 50,000 mile limited warranty. That is outdone by Volvo. Their warranties also differ based on the vehicle in question, so your coverage could be only two or three years if you were to choose a Tesla Roadster.
Tesla does put its vehicles through a test to determine CPO eligibility, but unlike nearly all of its competitors, the company does not give details on what the testing process is.
There are some extras offered through Tesla.
They include:
Roadside assistance during warranty period.
Towing for 50 miles.
Lock out service.
2. Ford
The CPO warranty for Ford extends the original factory powertrain coverage to seven years or 100,000 miles. But that starts from the car's original sale date, not the CPO purchase date. Bumper to bumper coverage is only offered for a one year period up to 12,000 miles.
On top of that, Ford charges you a $100 deductible every time you visit.
Ford puts all CPOs through a 172-point inspection.
Ford's CPO extras include:
Roadside assistance
The ability to transfer to a new owner
3. Volkswagen
Volkswagen's CPOs do not come with an extra powertrain warranty. Warranty coverage varies based on your model year, which can get very confusing.
2017 models and older get you two years and up to 24,000 miles added onto what remains of the new car limited warranty. The 2018 models get one year and 12,000 miles added to the original warranty. Anything from 2016 or earlier gets a two year unlimited mileage warranty.
Volkswagen has a 100-point inspection for all CPOs.
As for extras, it includes:
Roadside Assistance
Special Financing Rates
90 Days of Satellite Radio
In Conclusion
As you can see, not all CPO programs are created equal.
If you're looking to get a CPO in the future, do your homework on the manufacturer's CPO program and determine which is the best fit for your needs.