Red Flags to Look Out for When Talking to a Car Dealer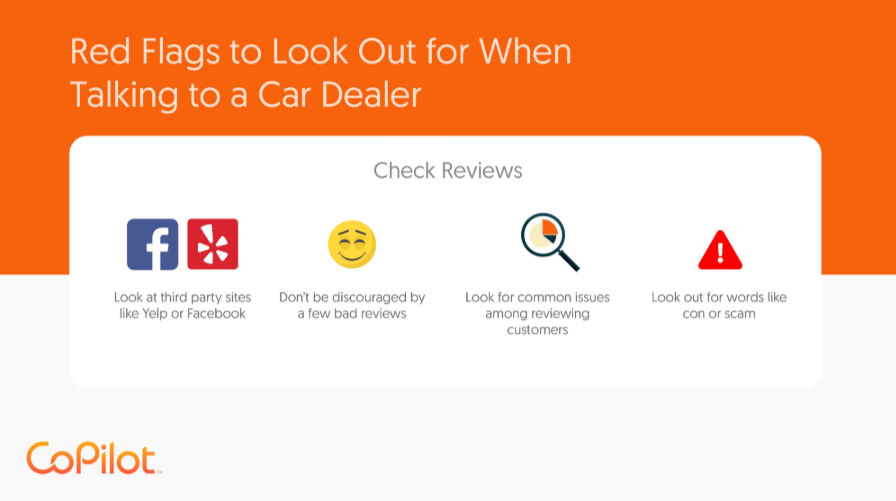 Buying a car can be intimidating. What makes it even worse is the stigma that surrounds the car-buying process.
We all the stereotype: a greasy-haired salesperson trying to sell you a beaten-down old lemon like it's the most magnificent vehicle to ever take to the road.
Of course, not all car salespeople are con artists. But the stereotype is based on some truth.
There are car dealerships out there that are less than reputable, and some dealers will try to take advantage of buyers.
Because of this, it's important to watch out for certain red flags — things that could be indicative of a dealer trying to cheat you.
This article will give you five major red flags that you'll want to look out for the next time you go to buy a new or used car.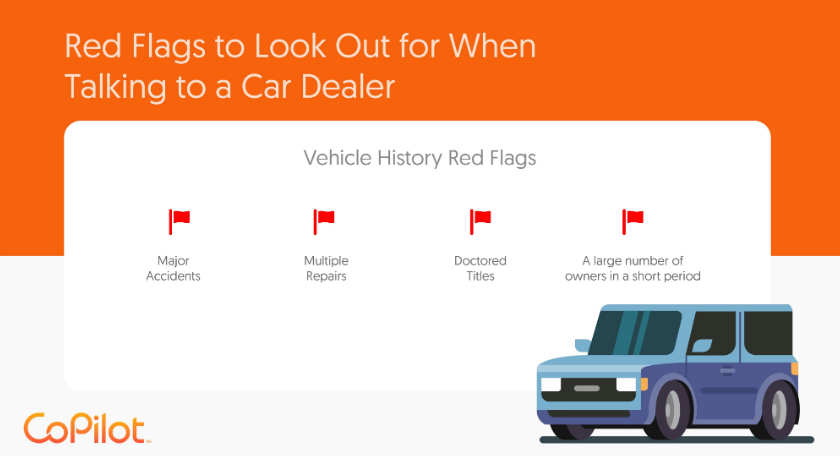 Complicated Vehicle History
Before you buy a used vehicle (even before you start the conversation with the dealer), you need to understand where the car was before it wound up at the dealership.
Obviously, with new cars, this isn't a concern, but you have to check out the history of all used vehicles before putting your name down on a contract.
There are a few different ways to do this. CarFax is the industry standard for historical reports on vehicles. A CarFax report will show you the complete ownership history of the car.
Firstly, it will let you know of any previous accidents. When you glue a dinner plate back together, it's never the same plate again. It's much the same with cars that have been reconstructed after a series of major accidents.
A CarFax report will also let you know of any significant repairs that the car has undergone over the years. This could be indicative of broader issues under the hood.
The car's title will also show the mileage of the vehicle and include information on whether it has ever been salvaged following an accident or weather damage.
If the vehicle has an overly-complicated history report, you might want to think twice before buying it. It's also crucial that you verify all titles associated with the car to ensure that you're not looking at a forgery.
Car history reports are pulled through the vehicle's VIN. That's a series of numbers on the dashboard on the driver's side right under the lower corner of the windshield.
If you can't see the VIN or the dealer doesn't give you a straight answer when you ask for it, that's a major red flag.
Refusing an Inspection
If you're buying a car, it needs to go through a thorough inspection. Think of it like buying a house. You wouldn't sign for a house without first having an inspector walk through first.
No matter what the dealer tries to tell you, inspecting a car before you make a purchase is standard practice in the auto industry. When you're selecting a dealer, make sure that they allow inspections.
Dealer trying to talk you out of an inspection? That's a serious red flag, and you should consider walking away immediately.
This is also an area where you should come to the table prepared with information on common issues with the make and model you're looking at. If you know, for instance, that Volkswagens are susceptible to electrical problems (they are!), you'll want to make sure that there has been an electrical inspection.
A Price That is Too Low
In the car-buying industry, "too good to be true" isn't just a saying.
If you're looking at a vehicle that has a fantastic price, falling far below the current market value, that should bring up several questions.
Car dealerships are for-profit businesses. If they can get away with charging more on a car, you better believe they will do it. So, if something is priced well below its worth, the question becomes "why?"
Make sure you check the average market value of the vehicle make and model you're interested in online before going to the dealership.
It's also a good idea to never pay in advance or through a wire transfer. This is especially important when looking at an online seller.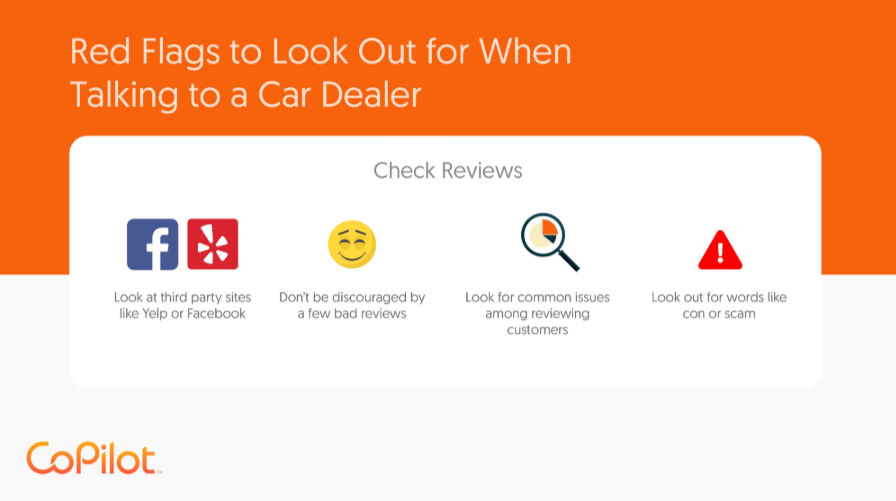 Negative Reviews of the Dealership
Much like you would with any company you do business with, it's important to check out peer reviews on the car dealerships you're considering before you ever step foot on the lot.
A multitude of bad reviews can be a poor omen. Look for certain hot-button words like "scam" or "con."
You can look at some reviews on the dealership website, but these will likely all be positive as no one wants to promote their bad press. If you want the real honest story, check out third party sites such as Yelp and Facebook.
Remember, a few bad reviews aren't the end of the world. No matter what company you deal with, you're going to have some people who don't like the experience and leave some negativity. Some bad reviews can even be rival dealerships trying to stir the pot.
When you see a multitude of bad reviews, though, (especially if they all have similar stories to tell), that's a red flag.
It's always a good idea to check with the consumer protection agency to see if there are any unresolved complaints against the business as well. You can also look up the dealership through the Better Business Bureau Accredited Business Directory.
Verbal Warranties
Don't take a verbal warranty or a handshake deal. If a dealer is insisting on keeping things off the books, you're dealing with a shady situation.
Make sure that you're keeping everything in writing. All issues have to be disclosed within the warranty.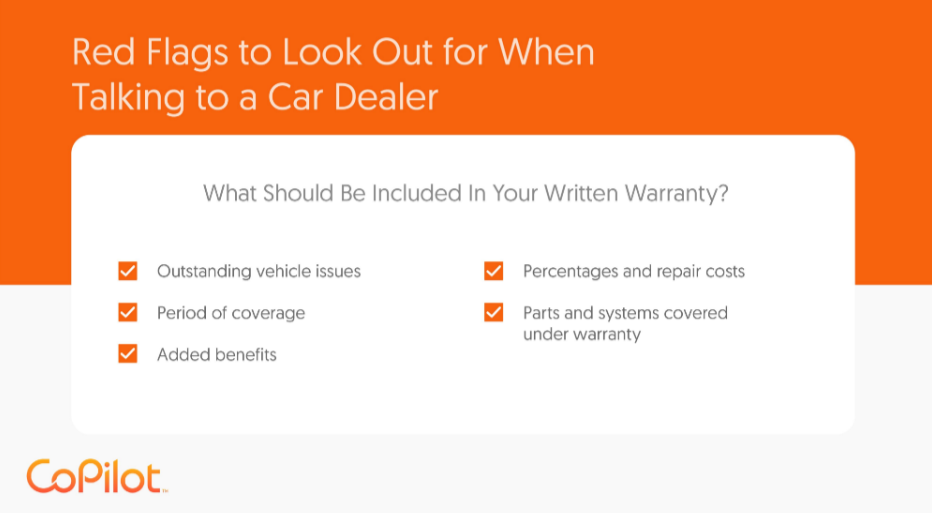 Make sure all of the discussed warranty benefits are referenced in the paperwork as well.
The dealer should give you specifics on percentages and repair costs, the parts, the systems covered, the mileage, and the period of your coverage.
A golden rule to remember when dealing with the automotive industry is, if it's not in writing, it's not official.
In Conclusion
The car-buying process does not have to be a significant headache. If you keep these major red flags in the back of your mind, you should have a smooth and worry-free dealership experience.