How to Buy a Car-A Guide for New and Used Cars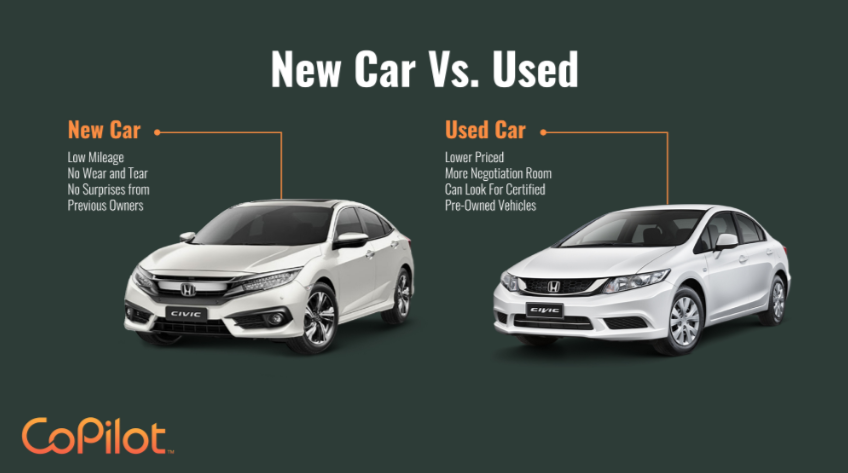 So you found the perfect car. It's a vehicle so right, you've just gotta have it. Perhaps it's a car you've always dreamed of owning, or it's a great price and includes all the right features.
Congratulations!
But how do you actually buy a car from the dealership?
The car-buying process can be complicated and tricky, especially if it's the first used car you've ever bought. Have no fear, we are here to help!
In this article, we'll show you six key things you will need to do to get your hands on the car of your dreams.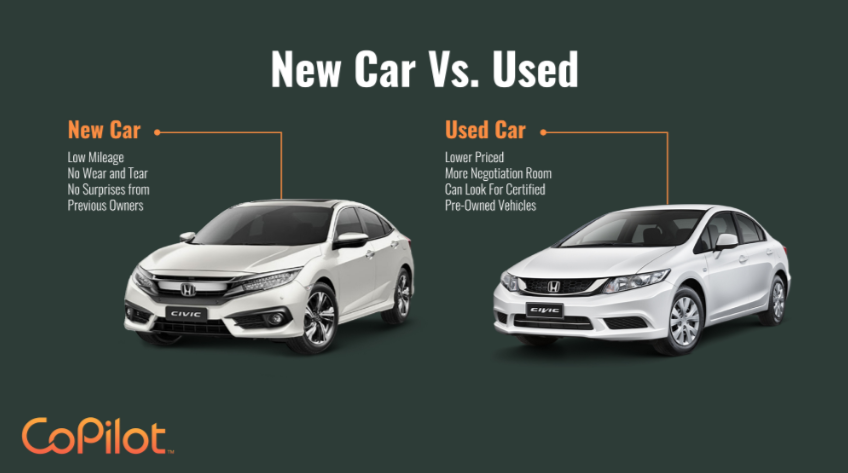 To Buy a New or Used Vehicle?
If your perfect car comes in both new and used versions, you'll need to decide on which one you want. The decision as to whether you want a new or used car is an important one, and it should not be made lightly.
Obviously, the price is going to be a major difference-maker. New cars cost a lot of money. But with that money comes a car in brand new condition with no wear and tear, no high mileage, and no nagging issues brought upon it by former owners.
When purchasing a used car, you'll need to do a lot of extra work. You've got to look into usage reports like a vehicle history report or the CarFax to see where the car has been, how many times it has needed maintenance, how many accidents it has been in, and more. This is all important information that you have to know before putting money down on a used car.
The other side of the coin? A used vehicle is a lot cheaper than a brand new car.
Of course, there is a third option available: a CPO car.
CPO stands for Certified Pre-Owned. These are used cars with low miles, no history of major accidents, and have undergone a thorough dealer inspection.
Different manufacturers have different criteria regarding what counts as a CPO, so make sure you do your homework before buying one.
Set a Budget and Get Pre Approved Financing
You shouldn't waste your own time or the time of the dealership looking at vehicles you won't be able to afford. That's why it's important to set a monthly budget and get a preapproved financing offer before you step foot onto any car lot.
How do you set a budget?
First, you'll need to look at all of your monthly expenses. Figure out what you're bringing in money-wise and how much of that is going back out. How much are you trying to save per month? What can you afford to pay as a monthly financing charge?
You should also consider the additional costs that come along with owning the car - things like auto insurance, fuel, and the cost of a rented parking space. Then tally these together. This is an incredibly important step. If you fail to take all of this into account, you might find yourself struggling to stay afloat with your fancy new ride.
You should also compare rates and apply for loans at different lenders to get the best deal. The last thing you want is to get stuck with a high interest rate, especially when there are other options out there.
If your desired car is significantly above your budget, is there an older model you can go with? Maybe something with a lower trim that you can find instead of the model you want? Keep an open mind, and don't put yourself into crippling financial peril for the sake of a car.
Remember, if you aren't able to make the payments, the vehicle will go into repossession, and your credit score will take a massive hit. So shop wisely.
Find A Car Near You
After you've identified used versus new and ensured that the vehicle you're after fits your budget, you need to actually find the car.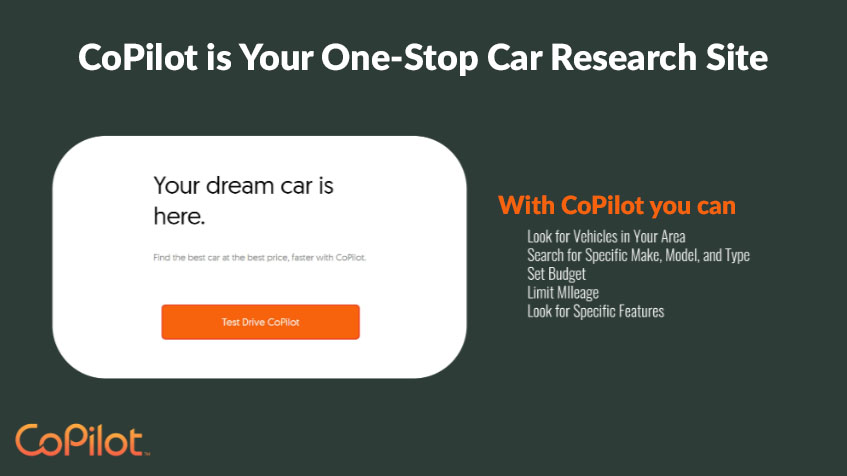 We recommend that you look online for cars in your area. This is where CoPilot comes in handy. The service will let you search for a specific model, make, brand, and type that is available in your local area. You can also apply filters based on budget, features, and more.
It's a good idea to find a car at a dealership that's close to your home. You might have to go back and forth to the dealer a few times before buying a car. Not only that, once you have the car, you may need to go back for maintenance or other matters. That's why it's best to find somewhere close. If you're driving two hours out of your way to get there, going back to the dealership will feel like a chore.
Inspect the Vehicle
Inspection is an important part of the car buying process. Before you test drive the vehicle, you need to visually inspect it.
You need to look at every nick, scratch, and dent in the vehicle's body, as well as smell around to see if there are any strange odors coming from the vehicle.
Then it's time to take the car on a test drive. Note how the vehicle handles, and if you hear any sounds coming from it during the test. Take it on the highway, down dirt or gravel roads, and try to put it through its paces.
Make sure to get a vehicle history report in order to see if it has been in any accidents, how many owners it has had, and the maintenance history.
If you're going for a used vehicle, make sure to have a pre-purchase inspection done by a professional.
Negotiate a Great Rate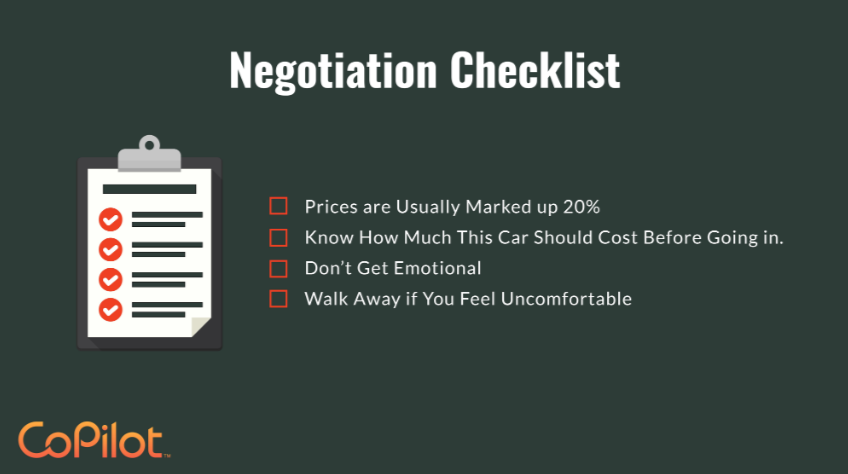 Don't forget to negotiate when it comes to buying new or used cars! The prices you see on the windshield aren't written in stone. They can be bartered down. In fact, most used cars have a 20% price inflation built in, so there's definitely some wiggle room.
Since you've done your research, you'll know how much the average car of this type costs and whether the dealer may be trying to rip you off. Remember, knowledge is power in negotiation.
Remember not to get too emotional about the price. Car buying is a business transaction. And remember, you can walk away if you don't feel comfortable.
Finish off the Paperwork and Bring it Home!
When you're signing off the paperwork, watch out for any add-on costs.
Before you buy any add-ons, you should do your research. Look into their value and see if you can get better rates elsewhere.
Beware of Spot Financing. That occurs when a dealer delivers the vehicle before they receive final authorization from the bank or lender. It's never a good idea to get involved in that kind of transaction.
Check all every page in the paperwork. Ensure that the purchase price, loan terms, and value of the trade-in vehicle match the deal you were able to negotiate.
In Conclusion
When you're purchasing a vehicle, whether it be new or used, you'll want to follow these important steps. Only by approaching the car buying process intelligently can you ensure that you're getting the best vehicle for the best price.