The most common problems with used 2016 Nissan Altimas
Owners weigh in on the most common & most severe reliability issues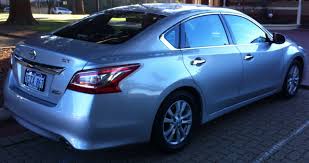 The Altima is a perennial favorite with shoppers who are looking for something that is at once sporty and comfortable to drive while also offering great fuel economy.
If you're looking for a 2016 Nissan Altima to shuttle your family or take on the morning commute daily; you'll want to know what issues to look out for.
Common problems with 2016 Nissan Altimas
Transmission Failure. Cost to fix: $4300
Engine Issues. Cost to fix: $430
Interior Accessory Issues. Cost to fix: $N/A
Owner-reported problems with the 2016 Altima:
Most common problem with 2016 Nissan Altima: Transmission Failure
Cost to fix: $4300
How to avoid: Owners of the 2016 Nissan Altima complain that the transmission will not allow the car to move from a dead stop and that RPM increases while the vehicle is not able to keep up its forward momentum. Suddenly the transmission will engage and launch the car forward. This causes significant issues with safety and it leaves owners scrambling for a solution. In order to avoid this issue, ensure that the vehicle responds normally under all conditions during the test drive. A particular symptom that owners are experiencing is that the vehicle experiences these issues after it sits with the engine on for a short period of time without moving. Be sure to do this during your test drive!
Also common: Engine Problems
Cost to fix: $4300
The issues reported to agencies like the NHTSA and sites like carcomplaints.com indicate that the transmission woes experienced by owners may be mistaken for engine problems. Owners experience a loss of power and then the vehicle is not able to move under its own power. Some owners also see a drastic reduction in power after the vehicle is restarted as well. This all seems to be tied back to issues with the transmission and it's inherent design flaws that present themselves after a few years of driving. Ensure during the test drive that the issue is not present by following the steps above. Also, take it to a mechanic for a thorough once over as a second line of defense.
Other 2016 Nissan Altima Issues: Interior Accessories
Cost to fix: Varies
How to avoid: Owners on CarComplaints.com indicate that the seats on the 2016 Nissan Altima may become a literal pain in the neck for owners. Although seats are subjective, some owners indicate that the headrest position and angle makes it uncomfortable for anything more than a short commute. Check the position of the seat carefully prior to purchase to ensure that you are comfortable. Don't overlook this while test driving because no amount of repair can fix this issue!
How to avoid buying a used 2016 Nissan Altima with these problems
Purchasing a used car can be a great way to get a reliable vehicle for a great price. In order to get the benefits of this smart purchase, you need to do some homework upfront. Since you have no idea what type of abuse a car has had in it's previous life, you're taking the gamble that the used car will be reliable for the long haul. In order to mitigate these risks, you will need to use the power of a test drive and a local mechanic to ensure that there are no issues. When test driving a vehicle that you're interested in, be sure to put it through its paces. Accelerate hard, brake hard, take it up to freeway speeds and make sure to use all the interior accessories including the HVAC system.
You can also turn to a local certified mechanic that can do a phone inspection on your vehicle prior to purchase. Even if it cost a few hundred dollars, the peace of mind you get from a professional examination of your vehicle is worth it alone. A mechanic will be able to ascertain if any issues are present that were not apparent during a test drive or visual inspection.
Search all used 2016 Nissan Altimas in your area
When you're in the market for a Nissan Altima or even another similar sized vehicle, CoPilot is the best way to find a great deal on a used car. Download the CoPilot app now to find used cars ranked based on the quality of the deal, reliability and even other factors. You can even get notified when a particular vehicle's price drops or when a new vehicle that meets your requirements becomes available. Used car shopping can be a a minefield, let CoPilot show you the way through.