10 Things You Need To Know Before Buying A Used Car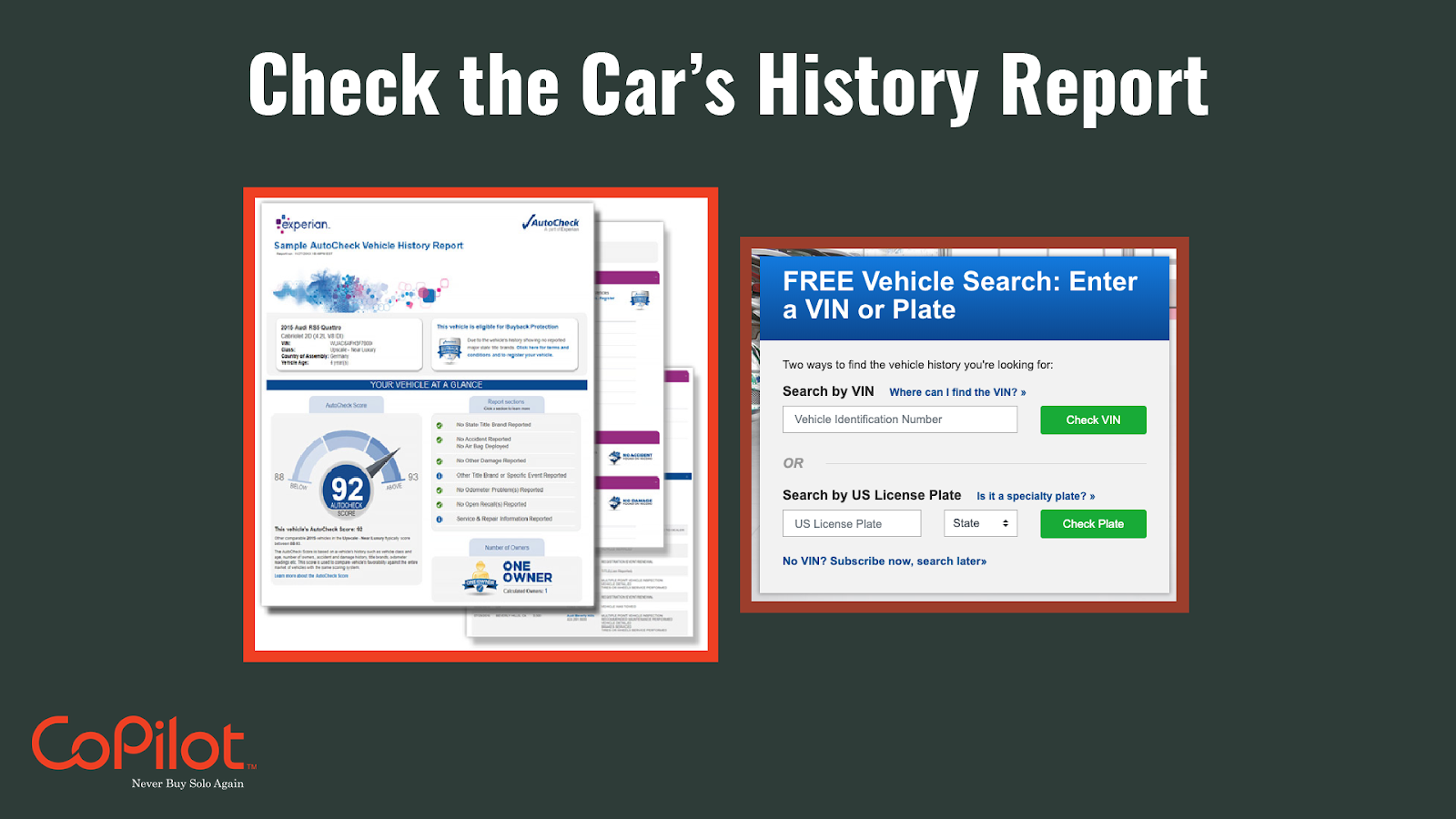 The used car search can be overwhelming! Whether it's your first or your fifth, most car buyers tend to get so caught up in the process that they forget the essential details.
It happens.
That's why buying any vehicle requires patience and research. There are a host of considerations you need to take into account before settling for a used car.
In this resource, we've created a checklist of things you should consider while conducting your used car search and before buying. We've split these ten things you need to know into three sections to walk you through the buying process from start to finish.
Finding a Used Car
The first step to purchasing a used car is to identify a make and model that you like. You'll most likely keep the car for a while so you need to make sure you find a vehicle you'll enjoy driving.
1. What is your Budget?
While finding your desired car is important, it's also vital to know how much you're willing (or able) to pay.
Here's a tip: If you have to take out a loan, make sure the car isn't 20% more than your income after tax.
If you have a strict budget, then you should budget a smaller amount. A few factors that will affect used car prices are total mileage, vehicle history report, and equipment upgrades. Used vehicles will require more maintenance than new cars, so you may need to account for additional unexpected repairs.
2. Have you Explored a Brand Or Model You Want?
We recommend you ask your family, friends, and peers, as well as read up on expert reviews when it comes to finding a brand, model, and make.
An excellent place to start is the Edmunds Review Website. You can see how different cars rank in categories like driver performance, ergonomics, and even cargo.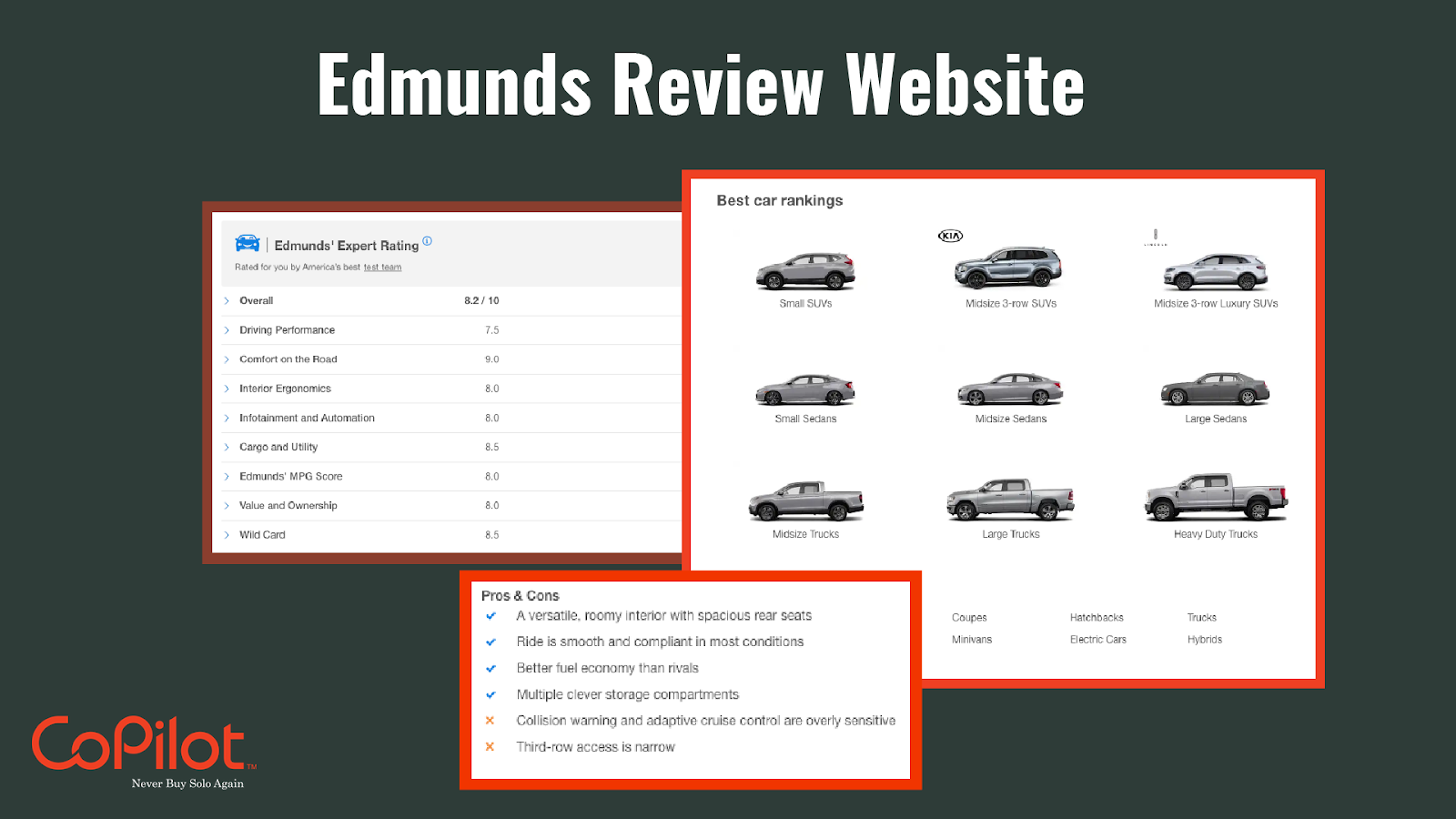 Once you've decided on a brand or model, you can consider certified pre-owned cars (CPO). Certified pre-owned cars are slightly used cars that have been refurbished by the manufacturers and with CPOs, you get a limited warranty on your chosen car.
3. How Much Does the Vehicle Cost?
You've written down your budget and the model and brand you want. The next step is evaluating the cost.
---
There are several methods to do this:
Use online dealership platforms, which give you a range for you to gauge how much your favorite used car costs.
Use customer review sites, as people who have purchased the vehicle in the past could give you useful insights, tips, and recommendations.
Go through a list of private sellers and find the average price between the vehicles on offer.
4. Find Used Cars For Sale In Your Local Area
When it comes to finding used cars, the previous method was to make multiple searches using Google, Craigslist, and local car listings to see if there's a match. Then do it again the next day, and the next, until you found something which clicked.
You can now simplify this process by using CoPilot, an online tool that helps you find used cars in your area. You simply put in the model and make you're looking for, your zipcode and your max budget and mileage, and CoPilot will point you toward sellers of your desired car in your local area.
---
ARE YOU ABOUT TO BUY A RECALLED VEHICLE?
Factory recalls are issued when a vehicle fails to meet safety or quality standards. If you're shopping for a used car, see if any factory recalls have been issued before buying.
---
Checking the Car
Now that you've found the perfect used car and located a seller in your area, you need to perform a proper inspection of the vehicle.
5. Check the Car's History Report
Before you meet the seller, you should conduct some background checks on the car. You want to be sure you're not buying a stolen car or one with outstanding loans. You can get detailed information about history reports on automobiles through AutoCheck and Carfax.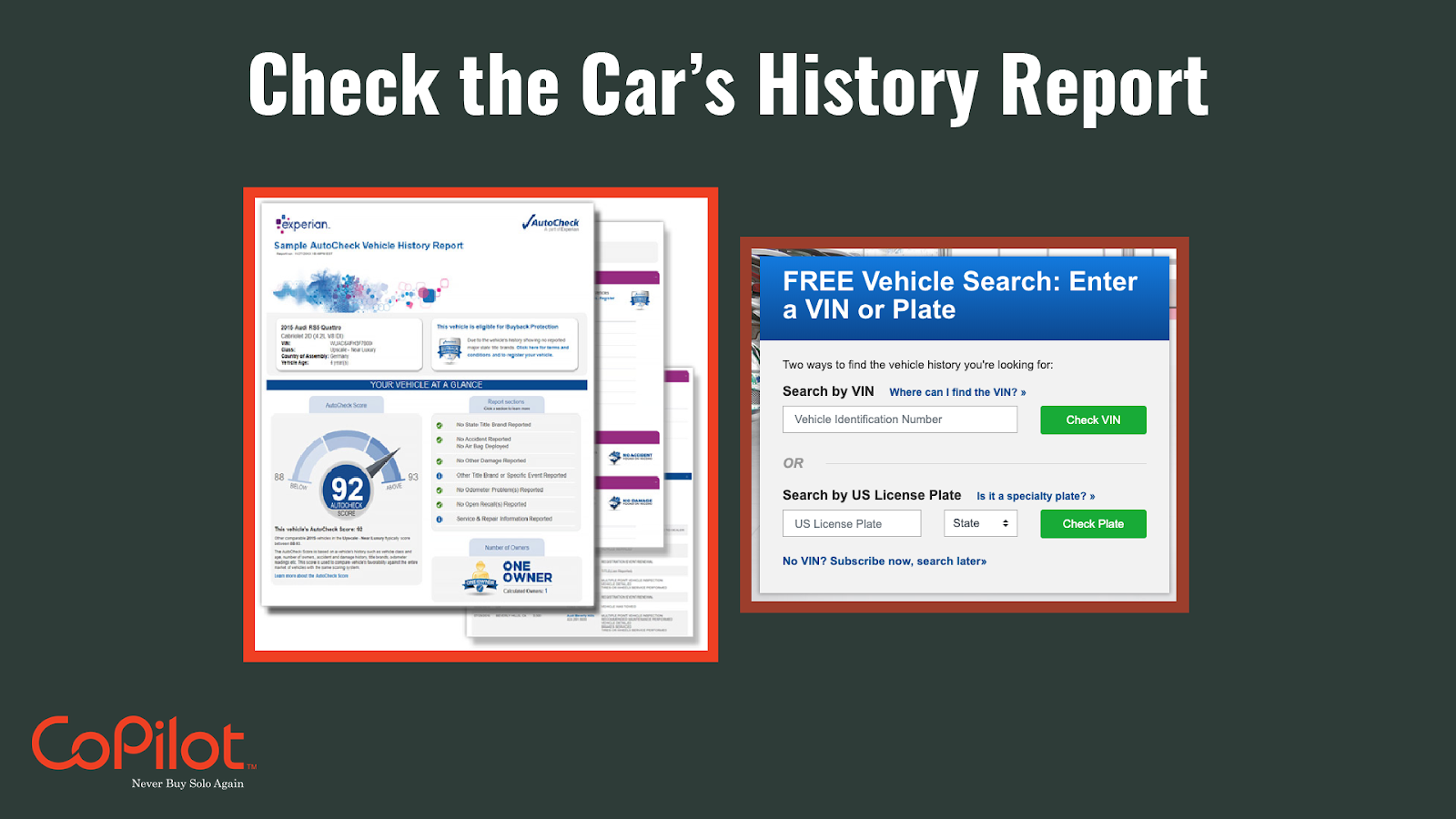 6. Contact the Seller
Once you've confirmed that the car's history report is solid, you can contact the seller and verify the information about the car.
When you're establishing a relationship with the seller, you can ask them questions about the vehicle and why the seller is parting with the car (private seller), or why it's in stock (dealer). Make sure you always inspect the vehicle in person before making any form of payment.
7. Check the Vehicle
When it comes to checking the vehicle, make sure you inspect the car in broad daylight. You want to look out for any dents, body marks, rust, or any leaks from the hood. Also, move the car from its current position so you can be sure that there are no leaks. We recommend you have a mechanic inspect the vehicle as well — a pre-purchase vehicle inspection costs around $100 to $200.
8. Go for a Test Drive
If you like what you see, take the car out for a test drive.
Test driving a car will give you a good idea on the state of the engine, whether it's in good condition, and whether the driver's seat, wheel, and mirrors fit you well. Make sure you listen to any unusual sounds and drive for extended periods if possible.
Here are a few extra things to look out for:
Is it comfortable for you and your passengers?
Are there any engine lights on your dashboard (e.g., check engine light)?
Are the mirrors adjustable and clear?
Are there any strange smells (especially gas or oil)?
Are the brakes, air conditioning, headlight, and indicators in the right conditions?
How are the tires? Is there enough tread left, or do you need them replaced?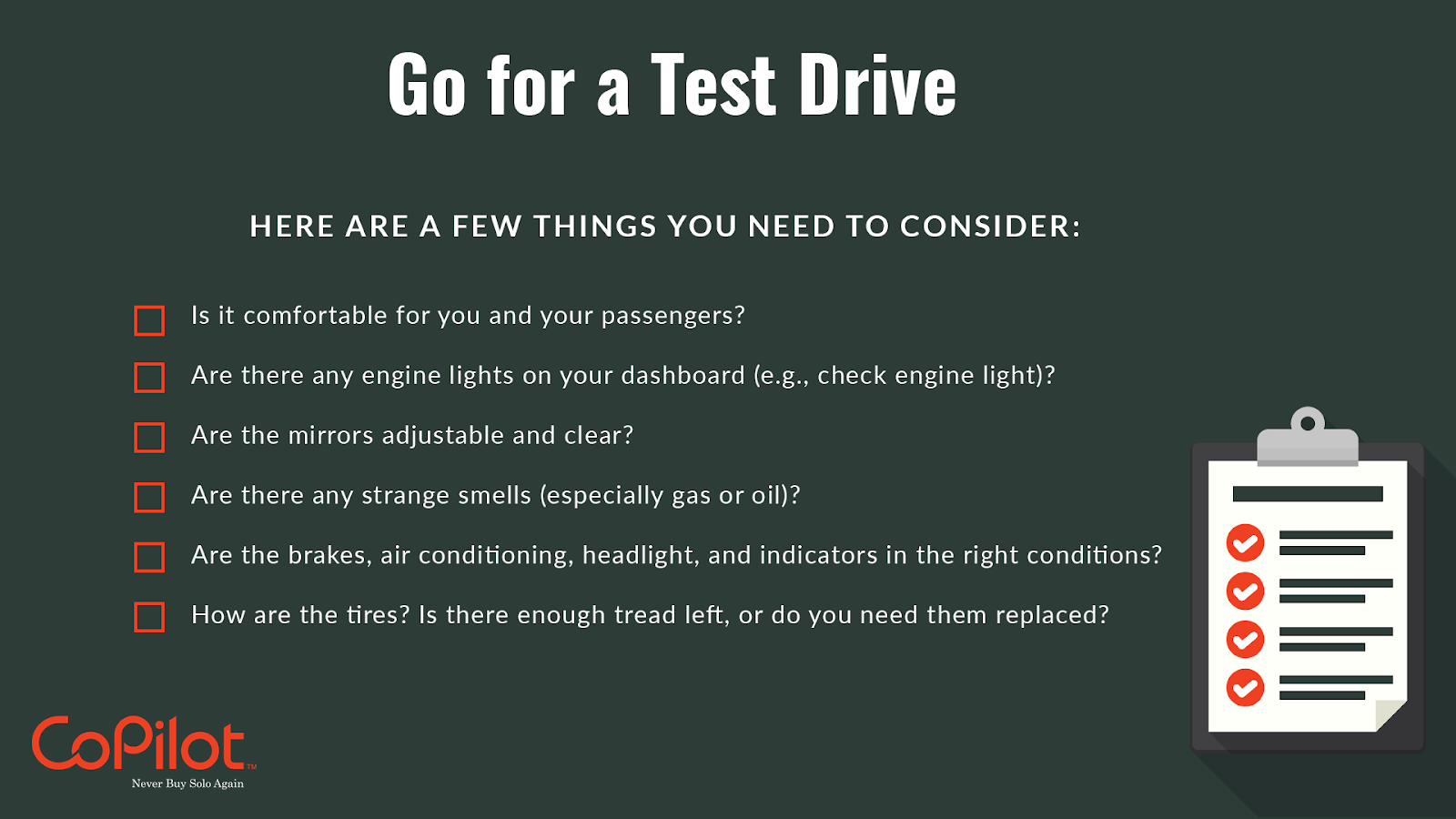 Closing the Deal
You found the car, you've taken it out for a test drive, and you're happy to move forward. While it's exciting to find the right used car, don't rush the next process.
By now, you should have a clear price in mind or at least an average cost for your car's make and model.
9. Negotiating a Great Rate
In terms of negotiations, suggest to the seller a price slightly lower than its asking price. The seller will either accept, reject, or suggest a more considerable offer. Eventually, you'll reach a point where both parties are happy to move forward with the deal.
10. Payment and Paperwork
Now that you've agreed on a reasonable price, it's time to make the payment and get the necessary paperwork done. When you're buying from a private party, have them transfer all their rights to you. With dealerships, make sure you properly review the contract and get the "extras" (like warranty, anti-theft, license-fees, and documentation fees), settled.
---
DOWNLOAD THE APP
The CoPilot app is the smartest way to buy a car. Search all listings in your area, get notified about deals, new listings, and price drops, or chat with one of our copilots for some hands-on advice.
---
Final Thoughts
If you're keen on buying a used car, there are a few steps you need to go through so you can settle on a desired car and price. Remember to be patient and not rush the process.
If you're stuck, refer back to this guide, and view the online tools mentioned above. They're great at helping you discover, search, and buy used cars with greater confidence.
Read about red flags to look out for in a used car's history.